Eminent domain litigation involves a determination of fair market value by jury trial in the Superior Court for the County in which the property is located. Ernest P. DeSimone has been trying eminent domain cases before juries throughout Massachusetts since 1975. To establish the highest value of a property which will be the subject of an eminent domain taking requires careful planning and consideration of many factors well in advance of the actual taking. An eminent domain case can be won or lost prior to trial due to actions or inaction by the property owner with respect to his property affecting its value.
Eminent domain litigation has evolved over the years due to a series of statutes and land use regulations. In particular the enactment of environmental laws relating to wetlands, waterways and riverfront protection, as well as oil and hazardous material, has resulted in significant changes in the level of expertise required of the trial attorney and the expert witnesses retained to prosecute the eminent domain action. In this specialized area of litigation it is critical that the law firm you choose has the required knowledge within all disciplines of land use and has established a strong working relationship with highly regarded real estate professionals to assist counsel in preparing the highest caliber valuation case.
Lynch, DeSimone & Nylen, LLP is unique in that each of its principals is a litigator with many years of experience in all phases of land use litigation. Mr. DeSimone has represented landowners before juries in the most complicated eminent domain actions and is relied on by his clients to obtain the highest recovery for the taking of their property. The timing of when to retain counsel is of the utmost importance. Experienced eminent domain counsel should be retained early to advise a property owner prior to filing for government approvals or disclosing information concerning the property to the public domain. Lynch, DeSimone & Nylen, LLP will require that all communication with a taking authority be directed through the firm to maintain confidentiality and insure attorney client privilege. In this way clients are protected from potentially damaging admissions or disclosures concerning the property which could affect its value at trial.
Ernest P. DeSimone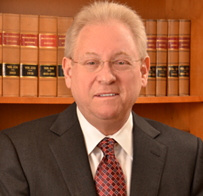 Founding Partner Ernest P. DeSimone has been a trial lawyer since 1975 and concentrates his practice in eminent domain litigation on behalf of landowners throughout the Commonwealth of Massachusetts. After graduating from Suffolk University Law School with honors, Mr. DeSimone became an Assistant Attorney General for the Commonwealth of Massachusetts.
Over twelve years as an Assistant and Special Assistant Attorney General, Mr. DeSimone represented state departments, officers and commissions in litigation at both the trial and appellate levels. Currently, Mr. DeSimone's practice primarily involves representation of landowners whose property is taken by eminent domain.